Use our thorough list of metal fabrication companies and suppliers in order to examine and sort top metal fabrication companies with previews of ads and detailed descriptions of each product. Any metal fabrication companies can provide metal fabrication products and services to meet your companies specific qualifications. An easy connection to reach metal fabrication companies through our fast request for quote form is provided as well. This source is right for you whether it's for cnc machining, aluminum fabricators, metal processes or any other metal stamping needs.
Trois-Rivieres, QC
|
819-379-0443
MARMEN, YOUR MANUFACTURING PARTNER With international expertise in high-precision machining, fabrication and mechanical assembly, Marmen is a highly regarded subcontractor for major OEMs. For more than 40 years, we have been serving multiple markets, including the oil and gas, wind power, hydropower, steam and gas turbines, nuclear, aviation, mining, medical and military industries. Our vast and diversified manufacturing knowledge and expertise allow us to undertake all types of new projects. We take great pride in our ability to provide cost-competitive value-added solutions to the engineering challenges faced by our customers. We machine complex parts of all sizes to comply with the stringent standards demanded by leading OEMs. We have the capacity to manufacture a wide range of components for all markets. - Exceptional capacity: up to 400 tons (363 000 kg) and 60 feet (18.28 m) in diameter. - Leading-edge technology: 5-axis CNC lathes, HBM, VBM. - Welding expertise in diverse processes: GMAW, FCAW, SAW, Automatic hot-wire GTAW, overlay/cladding, robots, and more. WE DELIVER MORE THAN PARTS, WE DELIVER MANUFACTURING SOLUTIONS - Renowned for excellence in quality and on-time delivery. - Recognized by leading OEMs for market competitiveness. - Turnkey manufacturing solutions. - In-house capacities for surface treatment services. - In-house NDT testing capacity and certified NDT inspectors. - Capacity to manage large and long-term projects. - Willingness to meet new challenges and grow with our customers. - Personalized project management. - Strategically located for transportation by train, boat or truck all year.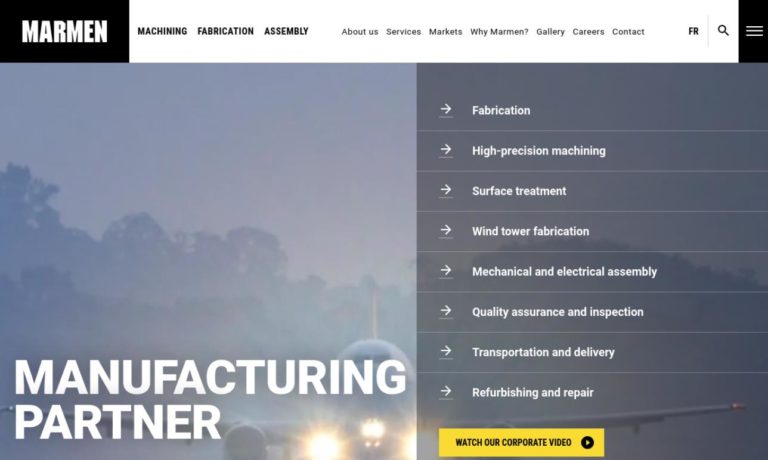 $$$
Companies Serving Near Quebec
Middleton, MA
|
978-774-2100
Our specialty is metal fabrication. Our capabilities are in panels, brackets, enclosures and sub-assemblies. Since 1970, our craftsmen have fabricated metal using punching, laser processing, forming, welding, finishing, machining and assembling. Precision craftsmanship you won't be disappointed in.
$$$